Driving Lessons in Leeds
Our passion is teaching people to drive properly, safely and competently on our complex, modern road systems. We want you to become a confident driver, as well as passing your test, in as short a period of time as possible. We provide Driving Lessons in Leeds, as well as some surrounding areas.
Driving Lesson Prices
We pride ourselves on our competitive prices, without offering any cheap or silly gimmicks. Other Driving Schools may offer you special deals such as 10 for £99, 5 for £56 or even 5 for £25, however for the majority of the deal you will spend a lot of the time sat at the side of the road or even watching the Instructor drive round! Also, they may not be Fully Qualified Driving Instructors and they are advertised as `Lessons` rather than `Hours`. This means the `10 Lessons for...` or `5 Lessons for...` could actually be only 40 or 45 minutes in length. Also, once you have taken the lessons in the initial Deal, Lesson Prices will rise to as much as £30 per Hour!
We GUARANTEE you drive the car as much as possible on all lessons - we dont waste time sat talking about it! Also, ALL our Driving Instructors are DSA Approved Fully Qualified ADI`s (Approved Driving Instructors), NOT Trainee Driving Instructors.
Driving Lesson Gift Vouchers Available - An ideal Gift or Birthday Present!
Lesson Prices:
** Special Offer - Complete Beginners Course**
First 3 Hours for £45 - Only £15 per hour
Payable in one payment on or before first lesson. (Complete Beginners only)
OR
Introductory/Assessment Lesson
1.5 Hour for £25 or 2 Hour for £35
Suitable for those that have driven a car before. The instructor will assess you and plan the lessons from there
THEN
Regular Hourly Lessons:
£25 per Hour
Discounted Lesson Prices
Student Discount Rate: £24 per Hour
Company Discount Rate: £24 per Hour
(Includes Leeds City Council and Leeds NHS)
Block Booking Discount
Further Discounts Available for paying in advance:
Pre-pay for 10 Hours in advance and we`ll give you a further £2 discount PER HOUR:
Regular Lessons Block of 10 Hours: £230
Student/Company Discount Block of 10 Hours: £220
Automatic Driving Lessons
Not available at present
Payments can be made as follows:
- Cash direct to your Instructor (receipts available upon request)
- Cheque direct to your Instructor (most Instructors take cheque) or through the school (payable to Shire Oak Driving School)
- Debit/Credit Card over the phone through the office. Please note credit cards attract a 2.5% handling charge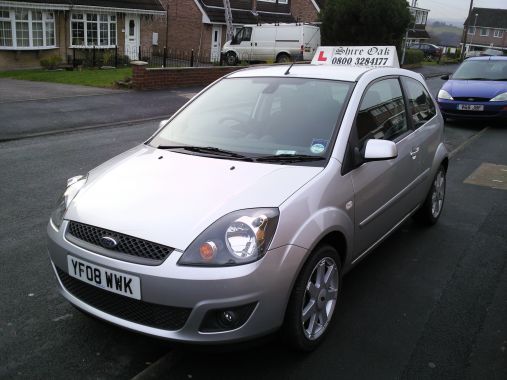 Intensive Course in Leeds
An Intensive/Crash Course of Driving Lessons in Leeds is for those wanting to pass their driving test as quickly as possible. A Course can be taken all at once within one week (only suitable for those already near test standard), or spread out over a few weeks (normally 2 to 8 weeks, depending on previous driving experience (if any) and current driving test waiting lists). Please note that the driving test cannot be booked until you have passed your theory test, so normally we would recommend that this is passed before booking the course.
Pass Plus
This is a great way to lower your insurance premiums and improve your skills, including motorway driving!
Price: £150 (6 Hours)
Motorway Lesson
We teach you how to drive safely on motorways, including correct lane procedure, speed, hazard awareness and how to switch lanes safely and correctly
Price £50 (2 Hours)
Refresher Lessons
You can book refesher lessons to help you get up to date on current road laws and manouveres, or even just to give you a confidence boost!
Price: £25 per Hour
If you would like more information or to book driving lessons in Leeds, please do not hesitate to call or e-mail us. Alternatively, you can e-mail us via the `contact us` page.
For more information or to book, call us on:
0113 391 0442
Enquiry
If you wish to contact us, please use the contact form below and we will get back to you as soon as possible. Thankyou.